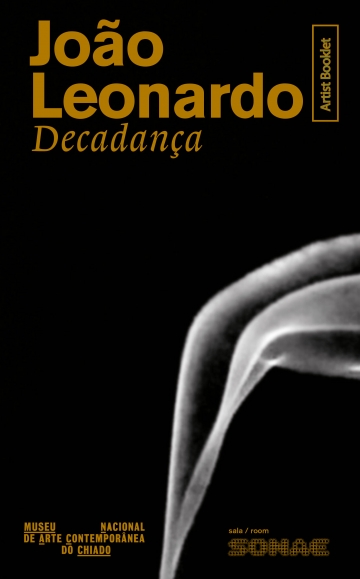 Published on the occasion of the homonymous exhibition at the MNAC-Chiado Museum from September 7 to December 3, 2017.
João Leonardo's artistic creation has met with diverse strategies of completion, but it has remained loyal to an essential core of subjects: the politics of the body, social control and identity run decisively through this work, which, at closer inspection, reveals yet another, more specific dissection of the themes of addiction, compulsion and the idea of decadence.
This line of thought is materialised decisively in João Leonardo's artistic but systematic use of the cigarettes he smokes, acting as a collector of his own waste, which becomes symptomatic of biographical and emotional circumstances, or using them to generate paradoxical images.
Smoke returns in João Leonardo's current show, but with a more subtle presence, able to illuminate the profile of his previous path. The exhibition is composed of two pieces that establish a clear dialectic relationship: in the video "Un Portugais, c'est un autre Portugais," Leonardo recovers a radio interview given by the French writer Marguerite Duras in 1976. The artist retrieves the verbal content and the original sound: we hear the cigarettes that Duras smokes uninterruptedly, and the sound of the ice in the glass of whisky, the depth of the voice, the breathing, traces of the idiosyncratic characteristics of Duras, whom we never see. The only visual reference in the video is the movement of the smoke from a cigarette placed in an ashtray out of shot as it swirls hypnotically around the room throughout. It is a slow dance without destination, evanescent and intangible, that contrasts with Duras' words, full of questions and perplexities. The artist intervenes through his own translation and dramatization of the text, a kind of phantasmagorical duplication that reinforces the argument implicit in the French writer's words: the impossibility of a self portrait and of a personal definition, either through the work or through the sum of the personal and political conditions of identity.
This piece should be viewed simultaneously with the sculpture-image that gives the exhibition its title. In it, we find two of the most canonical books of the 20th century ("The Interpretation of Dreams" by Sigmund Freud and "Capital" by Karl Marx), which Leonardo brings together in a fish tank, submerged in… whisky. A direct reference to the decadence of the systematic models explaining 20th century reality and their emancipatory aspirations, as well as the artistic ideas associated with them, "Decadance" is not so much an iconoclastic irony as a manifesto for the essential impurity of the artistic gesture.
Publication Date

2017

Preço

9.50 €

Idiomas Dísponiveis

en

Tiragem

500 exemplares

ISBN

978-972-776-508-9

Depósito Legal

426028/17